Tripawds is a user-supported community. Thank you for your support!
Alexei is the big guy on the left (header) taking on his two brothers in a game of Tug O War.  Alexei is a nine year old male Doberman with a Russian name that often leaves people confused.  But he is every bit the boy and has the scars to prove it.
About four weeks ago we thought Alex had hurt his right front paw roughhousing with his brothers in the yard. When it didn't get any better it was off to the Veterinarian. The Doctor was concerned with the location of his injury, but prescribed anti-inflammatory medication after the x-rays were negative. Alex was back at the Vets' office in two weeks when he was not healing and in obvious intense pain. What we thought was swelling was actually a mass. He was diagnosed with Osteosarcoma (bone cancer) and we were referred to a specialist. Two days later Alex was sitting patiently in the Oncologist's exam room with his mom. Just the sight of the man's white coat had Alex's bad paw raised for examination before the Doctor could even close the door. The earlier diagnosis was confirmed. Alex underwent a battery of tests that yielded positive results. But this cancer returns 90% of the time and even when images and chemistry is clear, micro-metastasis is present just not detected.
We desperately searched the internet for all the information needed to make the proper choices. It is clear that amputation is the only way to permanently stop his pain. Tripawds is a site that provides virtually everything pawrents need to make that informed decision. The discussion forums and blogs provide a support community of people and K9s that have experienced this horrible disease. At this point my concern is stopping his pain and "doing time" on pain killers is not Alexs' style. Alexei is a proud Doberman that insists on running with his pack until that is no longer an option. What I have learned in the past few days is that its' better to hop on three paws than limp on four.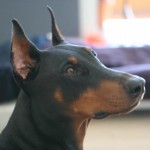 Well, tomorrow is the big day. I am confident in our decision, but I have pause to question when I watch Alex sleeping so soundly on the sofa tonight. I have to think it is only the medication that is making this possible. Our path of treatments post surgery is a decision for another day. Everyone needs to get some rest for the long day tomorrow…