Tripawds is a user-supported community. Thank you for your support!
Alex was a real trooper and was home with me Tuesday night just seven hours after his surgery.  He was heavily drugged for about two days and required intense attention.  Although this was exhausting and stressful, it was extremely rewarding.  Rarely have I had the opportunity to be the more giving one in our relationship.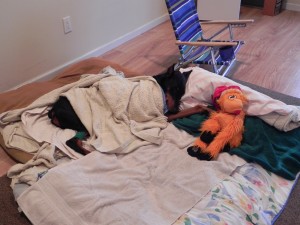 Thursday morning Alexei growled as his brother peered over the gate at him.  It was the first sighting of his personality in days and an indication that he was back.  A short time later he rose to his feet like a laying horse off the barn floor.  Alex made his way over to look out the window and I knew he was on his way to a full recovery.
We spent the day in Alexei's favorite spot, on the rear deck.  Alex was in his glory, laying in the sun with his pack.  A little sore from the operation with lots of work ahead, but he was out of pain and enjoying life again…